DENT FAMILY MINIATURE HORSE RANCH
6855 69th Street
Vero Beach, Florida
Ph: 772-562-9458
Miniature Horse Care:
Feeding Miniature Horses:
We grain feed all our miniature horses. All our horses are grain fed a 12% pellet. Our mature horses are
fed at least a pound a day most of the year. The exception is the mares heavy in foal whom
are on maternity watch which are fed twice a day until they foal. Then they are fed twice a day while
in the barn and turnout for the first 30 days after the foal is born until they are turned back out in the
pasture with the breeding stallion. Plus some of our older horses are fed twice a day when not in
breeding season.
All the weanlings are fed 3 times a day for the first few months after being weaned. Then reduced
to twice a day, while also being on free choice hay 24/7 and have the choice to be under the barn or
out in the pasture at night. They are fed this way until they are close to 2 years of age for the ones
we still have available.
Besides the grain and hay we also put out a special blend of free choice mineral which contains
21% protein, 28% salt. 2.5% fat, 13% crude fiber plus added minerals.
We feed all our horses this mineral on a yearly basis. We use coastal hay from North Florida for all
our hay needs. White salt blocks are also kept out on a yearly basis.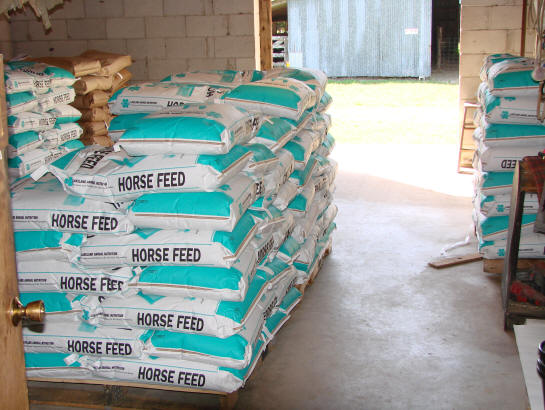 Our feed supply for a month during mid foaling season.
This page created 12/26/2012