CHUCK DENT MEMORIAL PAGES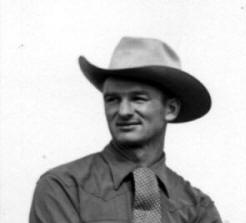 CHUCK DENT
SEPT. 18, 1917 -- FEB. 20, 2000
CHUCK LIVED HIS LIFE TO THE FULLEST. FOR THOSE WHO HAVE LIVED THE WAY HE DID, WORDS DO NOT NEED TO BE PRINTED. AS THE PICTURES WILL TELL THE STORY OF HIS LIFE.
THIS MEMORIAL IS BROKEN DOWN INTO 4 PAGES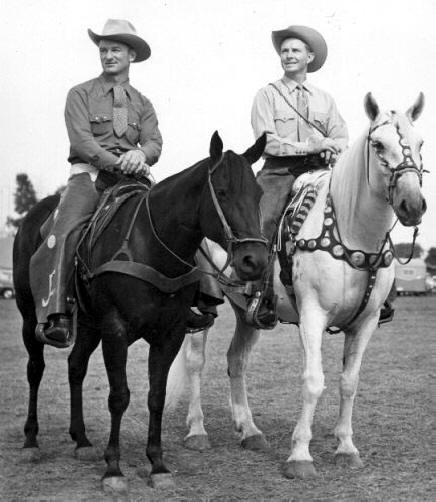 CHUCK ON THE LEFT WITH HIS FRIEND JIM ESKEW, JR.
------------------------------------------------------------------------------
THE EULOGY
As read by the Reverend Doyce Morton
When Chuck was 7 years old his uncle took him to the 101 Ranch Wild West Show. They had around 300 horses they used in the show and when he seen the trick riding he told his uncle, "That someday, that was what he was going to be doing."
He was a teenager when the start of the depression hit, his father became ill and he got a job driving 4 abreast teams of horses plowing the fields. Since his family was poor he gave the money he made to them. But each night after work, in the dark, he practiced trick riding.
On the weekends a local dude ranch hired him to trick ride at their show. He had to ride his horse 15 miles one way to get to the show.
At the end of the depression his father started getting better, and he vowed that he would never farm again. He was going to make his living on horseback.
In the early 30's he joined up with several wild west shows and circus's trick riding, trick roping, roman riding and doing anything else that needed to be done that concerned horses. In 1938 he worked on the Parker and Watts circus with silent movie star Hoot Gibson.
From 1943 to 1946 he worked on the Mescalaro Apache Indian Reservation cattle ranch and obtained some of his best friends in life. He had strong beliefs in their ways of respecting how they lived and managed the earth. He would go to the ranch rodeos on the weekend and this began his rodeo career. He realized he could make more money by going to rodeos on a mostly full time basis than he could working cattle for ranchers.
In 1947 he joined the Rodeo Cowboys Association competing in 5 events. He was one of the first 170 contestants to join the association. He contested at such rodeos as Madison Square Gardens, Chicago, Philadelphia, Detroit, and Cleveland back in the late 40's and early 50's. He worked along side of Roy Rogers and Gene Autry.
He started rodeoing in Florida in 1950 and was the Florida Champion steer wrestler, saddle bronc rider, and bareback rider in 1954 and repeated as champion steer wrestler in 1955.
In 1951 he went over with a group on rodeo contestants with Colonel Jim Eskew to Cuba.
He came to Vero Beach in 1953, being hired to build the first Indian River Riding Club. Later that year he bought some land west of Winter Beach and broke horses and worked cattle. He spent the winters in Florida and rodeo'd in the Midwest and northeast during the summers.
He began building his herd of small ponies and had over 100 mares in the 1950's.
He was always a person who helped people in need when it came to livestock.
He would furnish calves for the riding club for those who wanted to rope.
He took ponies down to the schools for pony rides for charitable events.
He would furnish all the neighborhood kids with ponies to ride whenever they wanted them.
Someone could call him up on Thanksgiving with a horse or cow problem and he would go help.
The 4-h club would have trail rides and he would furnish his place as a stopover and serve them all lunch.
In the late 60's when they tore down the original riding club he offered his arena for 2 years so the 4-h club could have their Valentine show.
He use to shoe and doctor peoples horses anytime, day or night and rarely ever got paid for it. He never turned anybody down when it came to helping people with livestock.
Even in the last few years he loaned out miniature horses to people so they would have enough horses in a mini class at the riding club shows.
He was a person who would give you an honest answer. You might not like the answer he gave you, but when you thought about it, it was the truth.
Once a man told him, "My dad left me a big ranch to go make a living on."
Chuck's reply was, "That's nothing. My dad left me the whole world to go make a living in."
Chuck's career ended like it started. Driving horses. Except this time they were miniatures instead of work horses.